The Lineage Timeline: 8000 Years of African & World History... On A 10 ft Scroll
This ground breaking scroll packs so much information and knowledge into one place that it simply has to be seen to be believed! Why not join 1000s of happy customers in breaking the bondage of limited thought patterns.... See the testimonials and videos below for proof!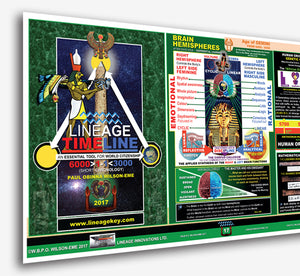 Learn about where it all started:
African origins of scientific observation
African origins of mathematical concepts
African observations of time itself... which lead to calendars and zodiacs and the modern BC / AD concept
African realisations of both the conscious and subconscious mind
African origins of medical theories
African origins of concepts of modern justice and law
African origins of religion and spirituality that reflect on the Abrahamic religions (Judaism, Christianity, Islam)
African creation myths
African origins of DNA and humanity itself
African origins of modern symbolism
African origins of architecture
African origins of empire (KMT, Songhay, Mali, Ghana)
Buy now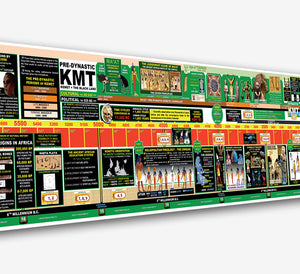 See how Africa fits in:
Compare Africa to the timeline(s) of famous world empires, kingdoms and civilisations and see how it crosses religions, cultures and epic clashes:
The heavy influence of KMT (aka Kemet aka Egypt) dynasties and discoveries on all of world history
Indus & Kush dynasties of India
Shang (1st) dynasty of China
Greek Empire
Roman Empire
Persian Empire
Byzantium dynasty
Moors
Ottoman Empire
Middle Ages
Renaissance
The rise of Europe (ie Italy, Germany, Spain, Portugal, England, France, Holland, Belgium)
World Wars 1 & 2
Buy now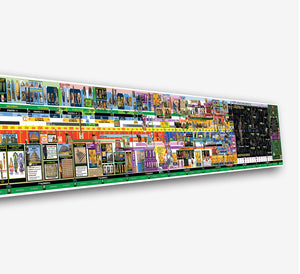 Get all this and more...
Gives an amazing visual concept of time constructs
De-constructs myths and false historical reports
Reveals huge gaps in traditional school learning
Reverses stunted mental conditioning
Promotes accelerated 'whole brain' learning
Promotes personal & professional development
Engages debate & self-discovery
Promotes respect for all cultures & their civil and human rights
De-constructs negative stereotypes
Confirms world-class scientific research
Uncovers historical gems & trivia
Can be used by all ages, races & backgrounds
Can be used in schools, homes, offices, community centres…
Buy Now
See what people have been saying in our focus groups
Even though The Lineage Timeline has existed for over 10 years, we still like to test it out with new audiences all the time. Here's a sample of one of our latest focus groups in NYC. The people in the videos were encouraged to give honest opinions of their history and how they thought The Lineage Timeline could help them in future.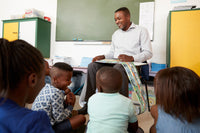 Great for schools
The Lineage Timeline has been used in a variety of ways in schools, colleges and universities across the US and UK. In fact, teachers usually see the education benefits immediately; besides that, there are few comparable resources for black history available.
Any in-depth history assignment (eg Black History Month) provides opportunities for using the scroll, since it displays African history going back to before 5000 BC. This way, any teacher can prep a customised project at ease.
BUY NOW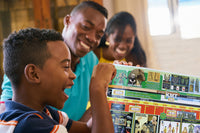 Great for the whole family
The Lineage Timeline is great for both parents and children alike!
Parents actually get excited when they introduce the scroll to their children because they immediately realise that there is so much history that even they didn't know about!
Compared to books, The Lineage Timeline is easily accessible to most reading ages and learning styles
BUY NOW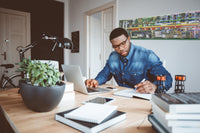 Personal & professional development
The Lineage Timeline was intended to show a new perspective on history. Understanding your roots ALWAYS leads to improvements in both personal and professional development.
When you have this grounding, mental and emotional blockages dissolve. Imagine being clearer headed, with more self confidence, more greater self-awareness and better relationships. Some communities need it more than others…
BUY NOW
History comes alive!
History is usually seen as one of the most boring classes in school. With access to The Lineage Timeline scroll, teachers can now teach history as a clear continuum instead of random dates that have no connection to each other.
This way, classes become alive, students remember more and are far more engaged throughout. All of these can only lead to better grades and a lifelong love of history instead of a fear of it.
BUY NOW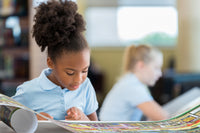 Emancipate yourself
What would you rather focus on? 400 years of slavery or 7500 years of perspective?
The slavery stereotype defines black history and black people worldwide. It's not to be ignored, but being stuck on this topic seriously damages self esteem.
We've seen it countless times with people of all ages, especially with children. Once they have a fresh perspective, they never go back.
BUY NOW
Testimonials
The (Lineage) Timeline is an invaluable tool for anyone wishing to consciously engage in the act of "Sankofa" (looking back to move forward).

I encourage everyone to purchase a Timeline. Study it and participate in a mental revolution of self discovery which will transform the world…

Anthony T. Browder is a best selling author of several modern classics on world history including: 'Nile Valley Contributions To Civilization', 'Egypt on The Potomac' and 'Survival Strategies for Africa'
This is by far THE best Timeline I've ever seen – so inclusive, so comprehensive and so detailed – nothing else compares!

(The Lineage) Timeline deals exceptionally well with the episodes that make up the African epic from earliest times up until the present day.

Professor James Small has been a world class scholar & distinguished lecturer on Pan African studies in the USA for over 40 years, was a compatriot of Malcolm X's family and still conducts regular cultural and historical tours in Africa
For many its like mental blow with a baseball bat backed up with 6 ft of great images and details.

I recommend that teachers and parents buy (The Lineage Timeline) any time I run workshops or teacher training…

Tony Warner runs unique guided tours of London which detail the strong influences of Black people & communities on the most famous institutions & architecture in London. blackhistorywalks.co.uk
(The Lineage) Timeline is a must for every family in the UK, regardless of creed, class or colour! ...

(It is) incredibly user friendly & works fantastically for interactive sessions no matter if I'm in schools, colleges or universities…

Andrew Muhammad aka 'The Investigator' As one of the UK's leading Black historians & culture specialists, Andrew is famous for his lectures on history and film where hidden symbols, languages and messages are unravelled.
(Paul Obinna's) work is a visual masterpiece that is bolstered by intellectual rigour…

The best way to counter historical distortions is to present a counter argument that can stand on its own merit...

Dr. Lez Henry is a visiting Fellow of Sociology at Goldsmith's University, London and a founder member The National Independent Education Coalition (NIEC). Dr. Henry has been delivering education & interventionist packages in UK colleges and universities for decades
I use the Timeline in my role as a personal development trainer and it never fails to a stimulate discussion about the power and nature of knowledge. It's more than just a great learning resource. It's a vital piece of equipment to have in your trainer's toolbox.

Pascoe Sawyers is a personal coach, business consultant and author of 'MePLC: Your Life Is Your Business'
I think the (Lineage) Timeline is phenomenal and I am happy for you to quote me on that.

When I first saw this demonstrated I realized its amazing potential as an outstanding teaching tool...

Juliet Alexander works in various charity sectors as well as PR, communications, training & event management
The (Lineage) Timeline is phenomenal! It's exceptionally detailed and should be made available in all aspects of the modern educational system.

Paul Obinna's expertise has been extremely beneficial to a wide range of developments in the London Probation Service...

Delphine Duff, Equality and Diversity Officer, London Probation Service
As a introductory resource, the (Lineage) Timeline is amazing – it clearly visualises many of the topics I'm learning about in college.

Also, the references at the end are truly invaluable, especially those that refer to the modern period.

Patrick Butterfield, Sociology (PhD) undergraduate, Goldsmith's University, London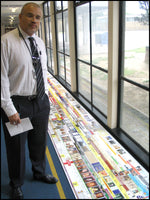 About the author
Since the 1990s, Paul Obinna has facilitated personal & professional development sessions for mentors, college lecturers, schoolteachers, police officers, youth and community workers, government commitees, think tanks, housing officers and counsellors. His specialities are overcoming social exclusion, constructive awareness of race related issues and engaging disaffected behaviours.
He has also designed, organized and run transformative residential events for adults and young people in the UK, USA, Trinidad & Tobago, Ghana, France, South Africa and Holland for local and national organizations.
All of Paul's sessions are delivered from a strong foundation of psychology and history. The Lineage Timeline has been his number 1 resource for opening minds and hearts for over 20 years.
Paul lives and works in the UK.
Buy Now